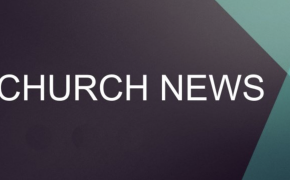 Church Family,

Join us for the Church Service this Sunday at 9:30am in person or via live stream. Let's worship our Great God together and hear from His Word. We need Him to show us His Glory in a mighty way right now. Here's the link if you'd like to tune into the live stream:

https://www.youtube.com/watch?v=RSgi_x0qCpI

We'd love to see you in person! But as a reminder, we encourage those who are sick or in the at-risk group to stay at home and continue to enjoy the live stream service.

We'll still practice social distancing with plenty of hand sanitizer available, and there will be no childcare, children's classes, youth classes, or adult Sunday School. Masks are not required. If we run out of room, we'll spread out into the brand new Hierholzer Hall.

Great News! We're going to share in the Lord's Supper this week. Pre-packaged Communion wafer/juice sets have been positioned all around the sanctuary, so when you see them you'll know what they're for. During the service I'll let you know what to do and I encourage folks at home to join with us by having the Lord's Supper at home with your family.


A Call To Prayer...

As I mentioned last Sunday, sometimes things seem to go from bad to worse. The past couple of weeks have proved that. We were in the middle of a global pandemic—and news seemed to be getting better—until George Floyd was killed by a police officer in the streets of Minneapolis. That ugly, brutal, and tragic event set off a chain-reaction that has not been resolved. It opened old wounds that have never healed. The anger spilled out into the streets of Minneapolis, then into many other major American cities.

I'm sure you've seen it on tv. It's ugly. It's confusing. It's sad.

People need hope. They need Jesus. They need restoration. Then need justice. They need peace. And together—all Americans—we need unity. Only God can give these things.

So I'm calling for us to pray for our nation. Pray for healing. There are so many broken people out there right now. Pray for justice. Pray for peace. Pray for forgiveness. Pray for grace. Pray that the enemy would not get a foothold and cause more division, even within Christ's church. He is trying to divide us by race and politics. Pray for unity.

So take some time this weekend to gather your family together and pray. We need God to intervene. Our country--it's people and it's leaders--need Him. We need his wisdom and power and strength for the days ahead.

Things may seem hopeless, but not for God. With God, ALL things are possible and therefore we have hope. Let us remind one another of 1 Peter 1:3 which says that "according to His great mercy, He is has caused us to be born again to a living hope…"

And let me finish with good words for these trying times—a reminder of what we should do when trouble surrounds us. In Romans 12:12 the Apostle Paul admonishes us:

"Rejoice in hope, be patient in tribulation, be constant in prayer."

If you're wondering what to do during a time like this—just remember these three things—and do them.
Praying with you and for you,
Pastor Rob